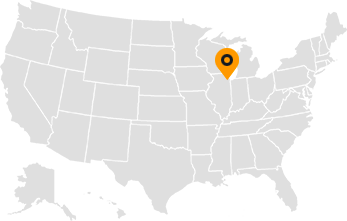 Founded in 2016 in Elgin, IL
800K works with AMAZON Prime and serves more than 10 states. We are the smartest solution in fast and convenient logistic and transportation services. Our company offers higher revenue for less miles. 800K assures you of fuel economy and no breakdowns because of our brand new trucks.
800K LLC offers to its drivers a secure workplace. Thankfully to our drivers, our score with Amazon it's one of the highest on the market.  We work only with Amazon company – a boost in the easiness of the process management.
Are you looking for a job?  JOIN 800K LLC.  We do drop and ship, no waiting in line, no live loads, just hook your trailer and you are READY TO GO.
Apply Now
AMAZON Distribution Center
Amazon distribution center is a big facility with an easy access from all places. With 800K LLC – you will never get problems finding the location of your load. Amazon offers an specially designed application which you can install in your phone and automatically your GPS will be doubled by Amazon app.
In case you have problems getting to the small locations with hard access and no space for docking, this is the greatest opportunity for you – start working with 800k LLC.
Apply Now
Salary Based on Percentage
Are you tired of all the companies which pay you per mile? Are you unhappy with the unfair miles count? Don't have to worry about that with 800K LLC! We pay 30% from gross and you can track this information with your Amazon app. Make sure all is clear and fair regarding cutting rates or adding fees. Easy process which can checked on your Amazon app profile.
In average, you can make up to $1,800 per week, but if you are hard-working CDL driver you can make up to $2,500. All you need is your professionalism, your ability to drive at night, be flexible and ready to stay 3 weeks on the road and up to 1-week home.
Apply Now
800k LLC offers brand new trucks for CDL drivers with experience. We have in our fleet automatic 2021 Kenworth T880. These trucks come with 500 horsepower and Cummins engine, AP unit and fridge, microwaves and inverter. We also have a Volvo trucks that we give for drivers with a minimal requirement experience.
If you are brand new driver – we also welcome you.  You will have to pass the training from one to three month to get on the road experience. But do not worry, we will assist and help you in the process.
Apply Now
Does your loading/unloading process lasts from 2 to 6 hours? Do you get bored of this waiting time? NOW is the time to connect with 800k LCC. With us, you will never lose time to get through this process. Everything you need is just – drop the trailer or hook it and you're done.
What we offer you? Safety on the road, transparency, less work time, and the more revenue. We drive only on ELD, and most of the time the loads are from 5,000 lb to 20,000 lb. Everything you need is to APPLY NOW. Become part of 800K LLC and AMAZON big community and family.
Apply Now

For the last 3 years, we have been making it simple and painless to move time critical freight container items around Illinois and abroad.

Our clients know that we pay attention to every detail and that we deliver the loads on time and in the best possible way.

Our support 24/7 will help you with any problem, we know how important is to get on time. We offers comprehensive service at the highest quality.
Best Elgin Trucking Company
When you work with 800K, we handle every detail for you. Our clients find that being able to trust and rely on us means they can turn their attention to other tasks and be more productive.
Get a Quote